7714 North Sheridan Road
Chicago, IL 60626



Oct 21 – Dec 5, 2023
Opening Reception: Saturday, Oct 21st, 6 – 9 PM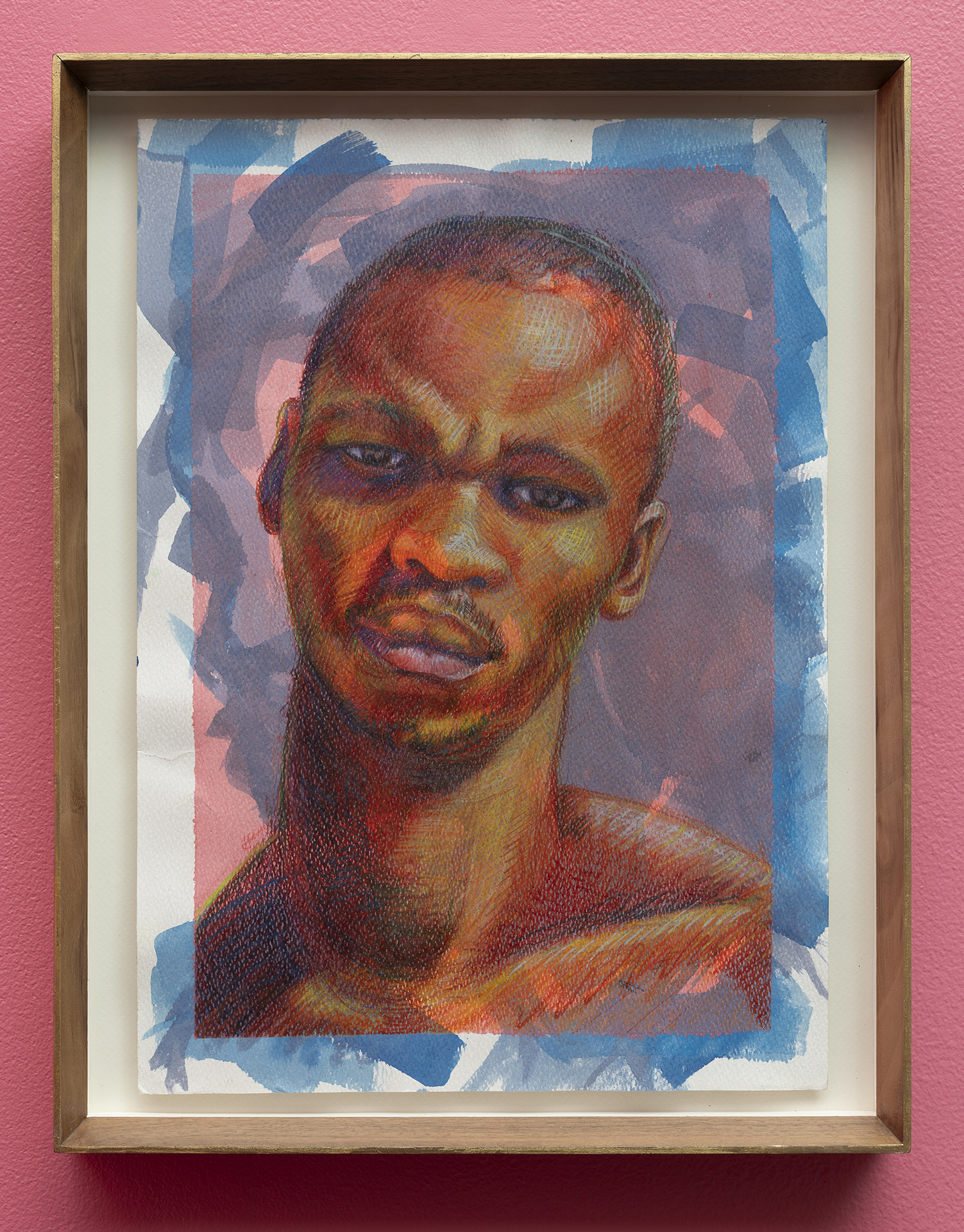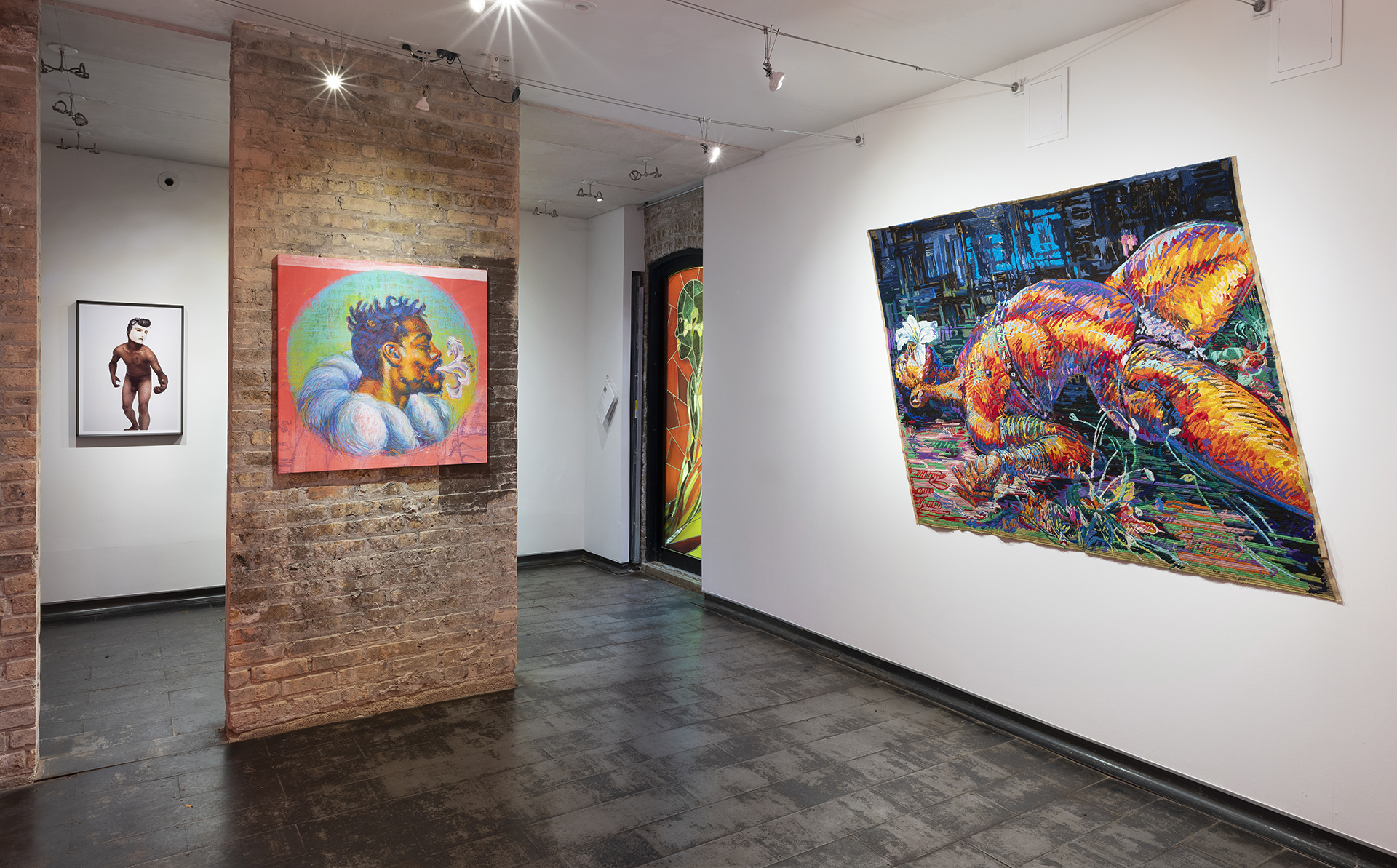 Curated by Daniel Berger and John Neff



Iceberg projects is proud to present a solo exhibition by acclaimed South African artist

Athi-Patra Ruga. Following an initial research trip to the United States earlier this year, Ruga is returning to Chicago with reflections on private archives encountered in the collections of Carl van Vechten's scrapbooks.

In this exhibition, Ruga uses the archive of 20th century photographer and writer Carl Van Vechten as a starting point to continue his decade-long interest in unpacking the response of black modernists to European and American negrophilia of the early 20th century. Through a series of oil pastel portraits, hand embroidered tapestry, and stained glass, Ruga probes the continued influence of these historical tropes on performativity, agency and representations and of the queer, male, black body.

By creating a series of speculative portraits and studies of Van Vechten's anonymous muse, Ruga seeks to reimagine an alternative for one nameless model exotically/erotically depicted in Van Vechten's photographs. In this process, Ruga embodies a type of double consciousness by becoming both the artist and the muse, as he notes:

" Portraiture is Performance and cannot be viewed without considering the historical, artistic, and political conditions in which the body is commodified for contemplation and by whom the image is consumed.

My intention is to expand on the artist's studio performance in relation to the autonomy of the studio model whilst taking into account the historical power dynamics of Van Vechten's images.

By looking back from a contemporary viewpoint, I can intervene in these images as a form of liberation of the young man photographed by Van Vechten.The problematics I am working through are that of realizing that the act of looking can be intimidating for the artist and the model. It is through me welcoming young male models into my studio for sittings that I then perform and react to Van Vechten and the problematics of image making.

In my artistic practice, the forgotten, erased, and problematised characters I depict in my work come from art history, my imagination, from life drawing, and serve as a continuation of my deep look at the complicit body, the eroticised body, and the queer body.

I am focussing on the black male body throughout industrialized history. I do this as a form of beatification and use it as a mechanism to free it from constraints in artistic style , genders, and subjective histories."


Athi-Patra Ruga - Eastern Cape - Aug 2023



Biography:

Athi-Patra Ruga is one of the few artists working in South Africa today whose work has adopted the trope of myth as a contemporary response to the post-apartheid era. Ruga creates alternative identities and uses these avatars as a way to parody and critique the existing political and social status quo. Ruga's artistic approach of creating myths and alternate realities is in some way an attempt to view the traumas of the last 200 years of colonial history from a place of detachment – at a farsighted distance where wounds can be contemplated outside of personalized grief and subjective defensiveness.

The philosophical allure and allegorical value of utopia has been central to Ruga's practice. His construction of a mythical metaverse populated by characters which he has created and depicted in his work have allowed Ruga to create an interesting space of self reflexivity in which political, cultural and social systems can be critiqued and parodied. Ruga has used his utopia as a lens to process the fraught history of a colonial past, to critique the present and propose a possible humanist vision for the future.

Significant exhibitions and performances include: Ruth Baumgarte Art Prize, Albertina Museum, Vienna; In Travesti, Eva Presenhuber, New York; Kiss My Genders, Haywood Gallery, London; Ravelled Threads, Sean Kelly Gallery, Seattle; Art Afrique, Louis Vuitton Foundation, Paris; Over the Rainbow, Performa 17, New York; An Age of Our Own Making, Holbaek, Denmark; Queer Threads: Crafting Identity and Community, Boston Centre for the Arts, Boston; AFRICA: Architecture, Culture and Identity at the Louisiana Museum of Modern Art; Imaginary Fact at the South African Pavilion, 55th Venice Biennale; African Odysseys at The Brass Artscape in Brussels; Public Intimacy at the SFMOMA, San Francisco; The Film Will Always Be You: South African Artists on Screen at the Tate Modern in London; and Making Africa at the Guggenheim Museum Bilbao.

Recent projects include Ruga's collaboration with Dior on designing two handbags for the fourth edition of the Lady Dior Art Bag. Ruga is also the co-founder of Victory of the Word, a fundraising and development project in support of the 200th anniversary of the Lovedale Printing Press in Alice, Eastern Cape, as well as the Artistic Director of BODYLAND, an incubator residency for artists held in the Amathole Village, Hogsback.

His works form part of Private, Public and Museum Collections in South Africa and abroad, namely: the Smithsonian Museum of African Art, Washington DC; the Foundation Louis Vuitton, Paris; Fondation Gandur pour l'Art, Geneva; The Zeitz MOCCA, Cape Town; Museion – Museum of Modern and Contemporary Art, Bolzano Italy; CAAC – Pigozzi Collection; The Wedge Collection; and the IZIKO South African National Gallery.
---
2023
---
2022
---
2021
---
2020
---
2019
---
2018
---
2017
---
2016
---
2015
---
2014
---
2013
---
2012
---
2011
---
2010
Copyright © 2010–2022 Iceberg Projects