7714 North Sheridan Road
Chicago, IL 60626



CARE BEAR POLICE: Art Evoking Politics in the Age of COVID-19

April 2020 - February 2021




During the deep freeze of our public exhibition program, Iceberg Projects mounted CARE BEAR POLICE which featured work by Sandro Chia, Stevie Cisneros Hanley, Christian Holstad, Carlos Motta, and David Wojnarowicz. Iceberg Projects pleased to announce the release of a 30-minute video gallery walk-through of the dormant exhibition with Iceberg founder Dr. Daniel S Berger and artist Stevie Cisneros Hanley.




---
CARE BEAR POLICE


Nearly a year ago, upon the recommendation of epidemiologists, government-mandated lockdowns went into place to combat the COVID-19 pandemic, and exhibitions far and wide froze. These included exhibits in major museums, to shows in small artist-run project spaces. Exhibitions fully hung and eagerly awaiting gallery-goers, others in various states of installation and deinstallation. These included exhibits in major museums to shows in small artist-run project spaces. CARE BEAR POLICE, an exhibition at Iceberg Projects featuring work by Sandro Chia, Stevie Cisneros Hanley, Christian Holstad, Carlos Motta, and David Wojnarowicz, also slipped into a coma outside the reach of visitation from the outside world. This sparsely hung show that stood suspended for nearly a year was left to itself, the artworks having only each other's company.

Even still, a spectral dialogue emerged. A virus parallels, between HIV/AIDS and COVID-19. Dr. Daniel S. Berger, the curator of the exhibition and occupies a set of unique life experiences that allow him to give potent insights to such comparisons. Dr. Berger is a practicing doctor overseeing his own clinic and an HIV specialist who helped develop the drug cocktail widely used for HIV/ AIDS treatment today. Dr. Berger was at the forefront of HIV/ AIDS healthcare, which forced him to operate both within officially sanctioned medical and governmental systems and unofficial and even illegal systems of medical distribution, such as the notorious Dallas Buyers Club, in order to save lives that were being criminally neglected. The nuance between illegal and sanctioned medical care is compelling and makes one wonder what contemporary parallels might exist or potentially will arise in relationship to COVID-19. Numerous questions along these lines unfurl in CARE BEAR POLICE: Art Evoking Politics in the Age of COVID-19, a 30-minute video gallery walk through with Dr. Daniel S Berger and myself.

CARE BEAR POLICE, the exhibition's namesake, comes from a portrait of my younger brother I completed a little over two years ago. It is a bricolage work of cut aluminum cans, yarn, and various bits of painted, drawn on, and embroidered paper and fabric. A messy work that attempts to tell a likewise chaotic story of schizophrenia in participation with the criminal justice system in the United States. Black, brown, and mentally ill people have long been brutalized by state-sanctioned police violence. This past year the murders of George Floyd, Breonna Taylor, Ahmaud Arbery, and too many more African Americans at the hands of police, galvanized hundreds of thousands of bodies out of quarantine and into the streets for the growing Black Lives Matter revolutionary movement. Another painting in CARE BEAR POLICE by Sandro Chia depicts men showering under the watchful eye of a soldier with pointed gun in hand. Beautiful bodies attempting to clean and care for themselves while facing gun barrels. An apt depiction of how too many precious bodies flanked by violence must fight for self-preservation. Sandro Chia is an Italian painter born in 1946, shortly after the death of Mussolini. Although, the specificities of exploited bodies and various apparatuses of police states change, core axioms of dehumanization, trauma, and abuse of power persist.

Exhibiting side by side, David Wojnarowicz in CARE BEAR POLICE is a career high point for me. Wojnarowicz was at the gateway to my learning what art is and could be thanks to his friendship to an old witch, the cardinal Katherine Sherwood, who took me under her magical wing many years ago when I was just a baby gay and artist. Katherine Sherwood taught Art, Medicine, and Disability at U.C. Berkeley and has remained a fierce disability rights activist. She took us on tours of the anthropology departments mostly stolen collections, during which she would 'accidentally' drop crumbled cookies, chocolate muffins, and raisins from her wheelchair, even under the watchful and somewhat bewildered eye of our official guide. Later in class, she told us this had been done very purposefully as a small act of care to feed the many spirits held captive in those sterile silos. Katherine was dear friends with David in New York's Lower East Side. She shared with us the horror of losing David and so many other loved ones at a time when nobody really seemed to care they were dying. Katherine's stories of David and her slide lectures of his potent, no-frills, direct work across various mediums landed hard on my young impressionable mind.

In his lifetime, David Wojnarowicz was anything but silent despite a world constantly muffling and suppressing him in a multitude of ways. The same has remained true for the artist even in death. David Wojnarowicz gave elaborately detailed written instructions to turn his own funeral into one last angry scream in the form of a street march and protest that ended in flames in the middle of one of the busiest intersections of New York City. The artist was an integral member of the AIDS Coalition to Unleash Power (ACT-UP) living and dying by the powerful mantra of SILENCE = DEATH.

As the world begins to thaw alongside the ultra-freeze vaccines, CARE BEAR POLICE has finally been deinstalled in order to make preparations for the next exhibition - that will be the first to welcome visitors in-person since the onset of this pandemic. No such privilege will have been given to CARE BEAR POLICE but we invite you into the exhibit and the subsequent conversations of CARE BEAR POLICE by way of this 30-minute video exchange.


- Stevie Cisneros Hanley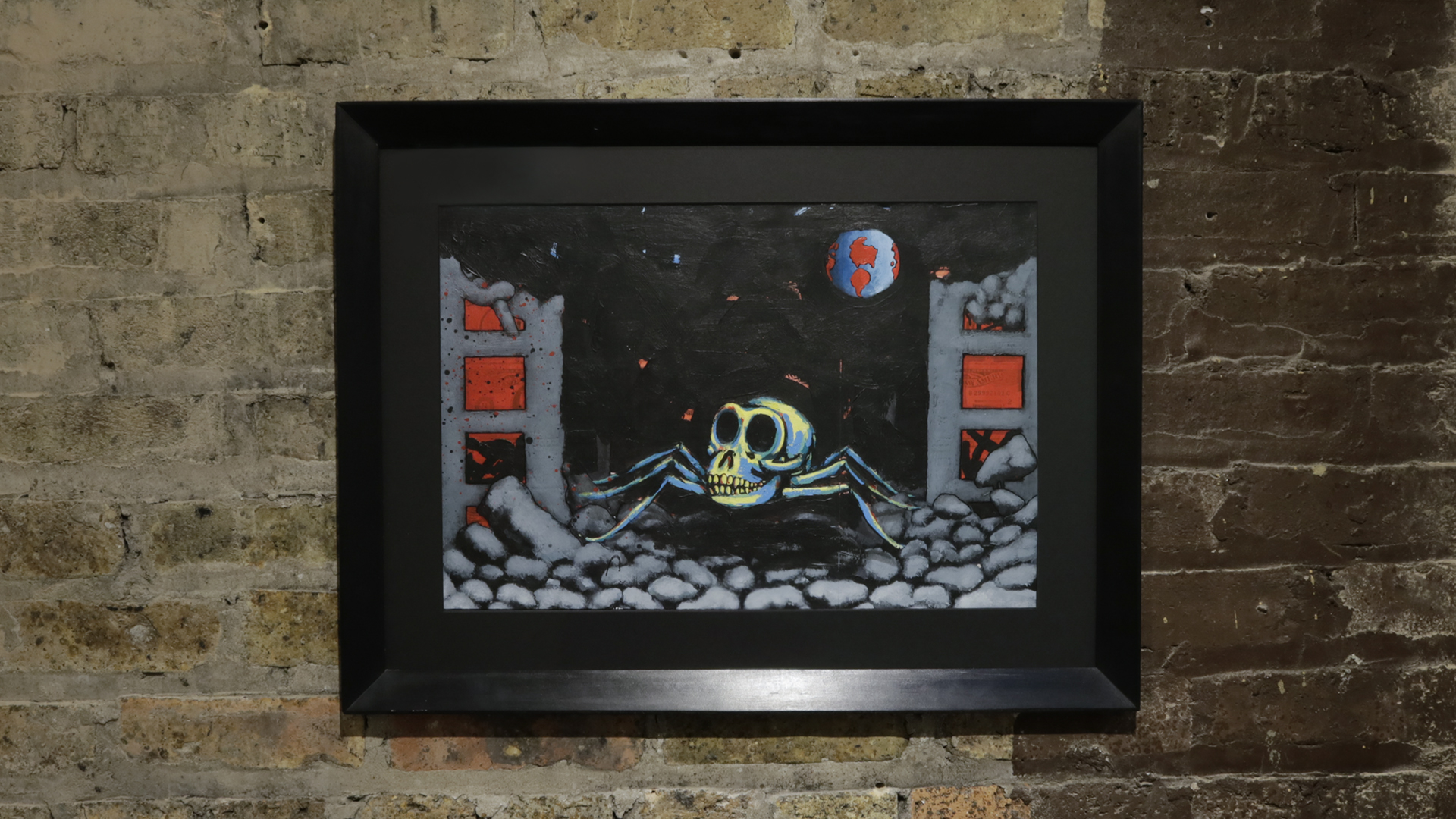 Curated by Dr. Daniel S Berger


Works by Sandro Chia, Stevie Cisneros Hanley, Christian Holstad, Carlos Motta, and David Wojnarowicz.









Copyright © 2010–2022 Iceberg Projects