7714 North Sheridan Road
Chicago, IL 60626



Dana Carter: Waiting for Daylight
March 12 – April 17, 2011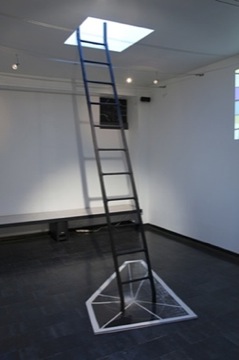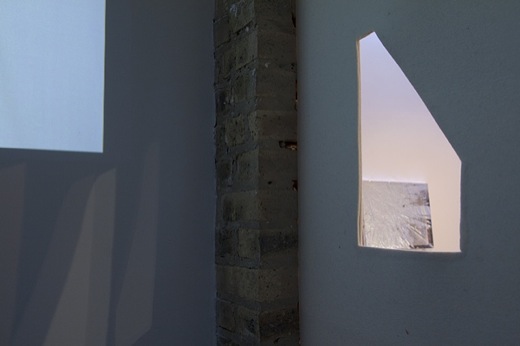 Through a series of comparative gestures in the studio Dana Carter steps into her practice; an ongoing exploration of the velocity of loss, the science of vision, word-play, and interactions with the natural world. At the intersection of process, architecture, and admiration for the cosmos, Carter considers the line between the ritual of observation and devotion to process in Waiting for Daylight, a site specific installation at Iceberg Projects.

The installation hinges on a central sculpture which links the existing skylight in the room to a floor plan of the artist's studio. The main space of the gallery is transformed into a time piece as the angle of the sun shifts across the skylight. Constant traits in the artist's work: refraction, absorption, accumulation, and darkness, come together to raise the question "who draws the line?"

Fabric scrims interface with the paltry distant horizon of a western-headed rail line, as Carter addresses transference from the role of viewer/observer to the role of maker and back again; a parallel to the role of belief and isolation in an artist's practice. Treating windows as thresholds of entry and exit, the works in the space conflate portals from her present studio with memory of spaces once lived in.


Dana Carter received an MFA from UIC in 2008. She taught Fast / Slow: Translations at the School of the Art Institute of Chicago in the Department of Fiber and Material Studies and Printmaking: An Image and its Ghost, at Northwestern University in the Department of Art Theory and Practice. Exhibitions and events include: The American Institute of Architecture (New Orleans), Glass Curtain Gallery, Columbia College (Chicago) Devening Projects & Editions, Harold Arts Residency (Chesterhill Ohio). Forthcoming exhibitions include: The Gahlberg Gallery at the College of Dupage (2012) and The Hyde Park Art Center (2013) Her work will be featured in Visions for Chicago, and Never the Same: Transformative experiences of Art, Politics and Community in Chicago (2011).

Copyright © 2010–2022 Iceberg Projects