7714 North Sheridan Road
Chicago, IL 60626



Dana DeGiulio: Say Say Say

September 16 – October 26, 2012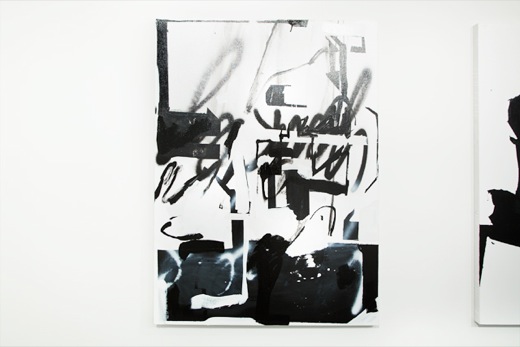 Artist Statement


Open at least your throat.

The text of the body of the bodies of these objects is the whole thing. Economy of means here to indicate elected restraints, to test what's exhaustible, to compel analogies between the visual grammars of drawing and writing. History, annotator of everything, fucks me up, licks my face: asks what ardent demand, what fractured gift, how to give an account of oneself. You are, I am, we are, an Insect, an Insect trying to carry Achilles' head, ambivalent and alert to the absurdity of this situation, to a dialectical urgency eating at itself to expand, to do more, to mean more.

What I have to give is an unequivocal broken Yes.

To say otherwise would be to break faith in us.

And this Us, local, contingent, embodied, indicates a gesture out, beyond subjective engagement the philosophical coordinates of studio-practice, its agons of code and poetic potential.

To persist at an encounter with the poor little world is the work of the artist. A test, and I think we do it for each other. To enact a critical metaphysics out of love, to ask and play and choke and fail, to posit small actions as consequential, emphatic, necessary, to insist on painting as an archive of touch, is hopeful, is hungry. My community exceeds me, the gift somehow never leaves my hands.


Dana DeGiulio (b. 1978) lives and works in Brooklyn. She received her MFA from the School of the Art Institute in 2007. She is co-founder and co-operator of Julius Caesar. Recent exhibitions include Docasný 404 (Prague), Bourouina Gallery (Berlin), and Green Gallery (Milwaukee).

Copyright © 2010–2022 Iceberg Projects